Dampp Chaser - The Piano Lifesaver System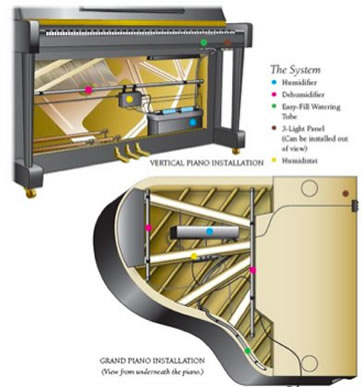 The humidity levels within your home are in a constant state of change. This is the primary reason that pianos go out of tune, notes stick, and parts dry out and break. Dampp Chaser (aka "The Piano Lifesaver") keeps the humidity levels inside your piano consistent by activating the dehumidifier during highly humid conditions, and activating the humidifier to replace moisture when the environment gets too dry.
The Dampp Chaser system is truly a lifesaver for piano maintenance, tuning, and combating dry or humid conditions that cause costly damage to your piano. Protect your investment by having a piano climate control system installed out of sight, inside your piano. Professional installation is required for warranty coverage. As a Certified Dampp Chaser Installer, I am qualified to guide you to the right system for your piano and to install and maintain it.
The system plus installation will cost $500 for an upright, and $550 for a grand (more for grand of over 7'10"). In addition, your piano will require a tuning 2 weeks after installation.
Visit the Dampp Chaser website for more product information:
http://www.pianolifesaver.com/